…is a filling Sunday.
(This is a continuance from the previous article, A Truly Lazy Sunday).
Ron came over to pick me up sometime after a cold and refreshing rain yesterday evening for a chilling session (no pun intended), somewhere that has free WiFi connection. The only place I can think of was Old Town White Coffee. But Ron wanted to hangout at KFC near Pyramid. We went there but after 10 rounds of searching for a parking spot, we decided to go to Old Town Cafe instead.
I honestly think hanging out at Old Town is much better. I simply love the atmosphere, and best of all, the Iced Mocha White Coffee. Yummy!
We always do this on Sundays. Just hangout somewhere where we can use the free WiFi. A great way to spend a Sunday evening. Yeah, we're geeks and we can't live without the Internet. LOL!
Actually, what we do during most of our chilling sessions like this was exchanging ideas and opinions on certain subjects such as softwares, hardwares, new sites, new gadgets and some other g33k related stuffs. That's what we like to do, but we're not really geeky geeks. We're a rather macho type of geeks. Hehehe.
Just look at Ron gritting his teeth. Now that's macho. (macam geram je tu).
As for me, I simply let things be.
Those are it. That's it. That's all that we did at Old Town Cafe. But what we did after that for dinner is something else.
One word…"Yummy!"
I don't know about you guys but there is a craze nowadays especially in and around Sunway area. At my count, there are at least 20 restaurants in Sunway area that are serving steamboat buffet. Twenty! Those are the ones that I've counted and seen. But those that are uncounted for? I don't know how many. So I do think it's a craze now.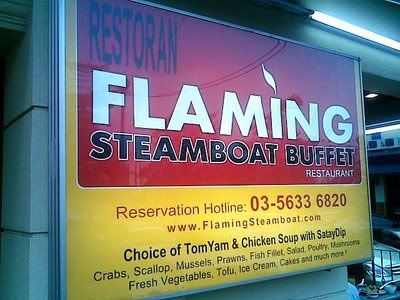 Ah, but the one we went to was the one next to Sunway Lagoon side. Can't remember what's that area called. But the restaurants' name is Flaming Steamboat Buffet. And I tell you, it's really Flamingly nice.
Last night was the second time we went there. We didn't get to enjoy 100% of it the first time coz we came in rather late and it was almost closing time. But last night we were early and the buffet spread was tantalizingly full.
It was a good thing that I didn't have breakfast or lunch yesterday. All reserved for this… 🙂
And these too…
So…are you hungry yet? I'm sure you would love to sink in your teeth in this type of meal right? The place is nice and the food is great, plus there were at least 7 types of sauces to go with the steamboat dishes. There are two choices of soups available, tomyam and chicken. I think the tomyam soup is fabulous. As for the chicken soup, yummy. Anyway, they will give you both.
Ron certainly had a great time. So much fun that he don't know where to begin.
So he began by taking pictures of the food instead. Yeah, he'll be updating his blog later too.
Indeed we had a huge meal last night. Obviously we don't mind going at it again. But we'll wait till the end of the month and also we'll be waiting for Shahrul and Timmy too. I've also promised to bring Winnie and Lina to Flaming as well. So that shall be end of this month girls.
For those who wish to try out the place, I would recommend that you come early. Although they close by midnight, doesn't mean that the food will still be there.
Here's a little useful detail and address if you wish to make your way there.
Flaming Steamboat Buffet
Business Hours: 5pm to 12 midnight everyday.
Halal Food Type: Up to 150 Items
Price:
Adult      : RM 19.90+
Children : RM 8.90+ (4 to 10 years old)
Children : FREE (3 years old & Below)
Air Conditioned :
Indoor (YES)
Outdoor (Smoking Area)
Address: [Map]
No. 123 & 124, Jln PJS 11/2,
Spectrum Shops,
Bandar Sunway,
46150 P.Jaya,
Selangor D.E. MY.
Enquiries & Reservations:
(03) – 5633 6820
p/s: Don't forget to bring an empty stomach. ^_^